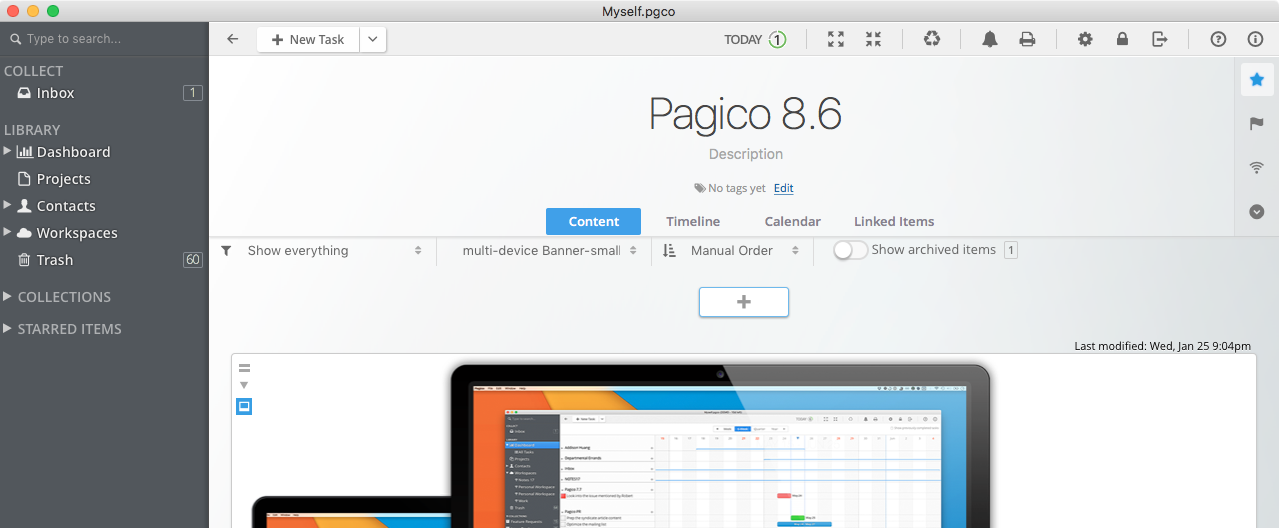 Pagico 8.6 is here! It brings a brand-new Banner Mode for images, several feature improvements and bug fixes. It's a free update for all v8 users, and it's recommended for all to upgrade.
New Features
File objects now have a brand-new "Description" field
Added a brand-new Banner Mode for images, a great way to showcase (or highlight) photos in projects and contacts
The Contact Auto-Group feature can now show the same contacts in more than one matching group
The Contact custom groups are now sorted alphabetically
Improved the way contact groups with numeric headings are rendered
Pagico can now properly parse and render links from OneNote and DevonThink
Minor Improvements and Bug Fixes
Fixed an issue where the Delete icon may incorrectly show up when an item is moved
Fixed an issue where the content view with filters enabled don't auto-update when a task is checked off
Fixed an issue where dropping a file into the expanded New Task panel may incorrectly hide the additional fields
When the author of a container is "unknown" (pending workspace sync), the authorship label will no longer show up in list views
Fixed an issue where corrupted unicode letters in workspace titles may cause the program to hang
Fixed a few issues related to the task counters in the Today view
Fixed a few issues related to moving items from the calendar view
Fixed an issue where the focus may be accidentally shifted to the search box in the background by using the TAB key
Fixed an issue where moving items from the timeline may introduce a Start Date unintentionally
Fixed an issue where double-clicking on a Pagico database on Mac may cause the Pagico app to hang
Fixed an issue where the "Show completed items" toggle in the timeline views may not show up in some cases
Fixed an issue where deleted items may continue to show up in search results
Fixed an issue where the content view object order isn't correctly refreshed when the Display Mode is changed to "Manual"
Minor UI adjustments
How to Upgrade
Pagico 8.6 (r2110) is a free update to all v8 users. If you are on macOS, then you can use the built-in Update Checker to grab this update directly. Otherwise, please visit the Download Section to download & install the update.