Are you new to Pagico? Here are 5 hidden features that can save you tons of time.
1. Writing tags and cross links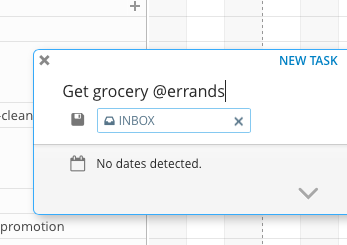 Did you know that you can write tags literally anywhere in Pagico? Simply use the @syntax in title or the notes area of tasks and notes, and you're all set! Similarly, it's equally easy to write cross links to other projects or clients. Simply type [project name] or [client name] in either the title or the notes area, and save to see the difference.
2. Selecting text for instant word count (and other follow-up actions)
Some times you might just need a quick word count on something. Simply select the portion of text, and hover your mouse over the little dark icon.

And if the portion of text is relatively short, Pagico will offer you a couple of secondary actions, too:

3. Saving search as smart collections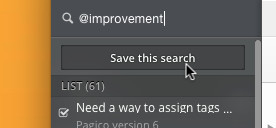 If you need to perform the same search repeatedly, you can save your search as a smart collection, which will update its content based on your search criteria on-the-fly.
4. Sharing projects instantly with anyone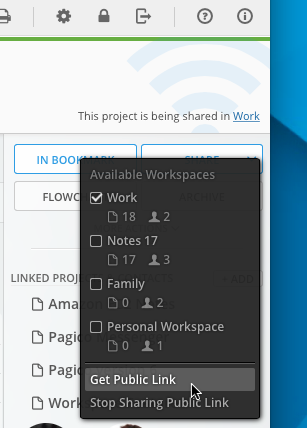 Starting from Pagico v7.2, you can easily share projects or contacts with people without Pagico. This is a great feature to loop in clients without asking them to install anything. To do so, simply go to the desired project or contact, click on the SHARE button, and choose the Get Public Link option. Then, just share the link with anyone and they will be able to get read-only access to your project (or contact) right away.
You can stop the share any time by clicking on the Stop Sharing Public Link option.
5. Using keyboard shortcuts for new tasks & notes
The best way to speed up your actions in Pagico is by using keyboard shortcuts. For instance, use Cmd + T (or Ctrl + T on Windows) to quickly bring out the New Task panel. Simply type the title and dates into the Title field, and Pagico will intelligently identify the dates & times and assign them to Start & Due respectively. Then, hit ENTER to save the task. By default, new tasks will be saved to your Inbox. But if you're already in a project or a contact, then the task will be saved here instead.
Of course, changing the save destination is very easy — just hit the TAB key to jump to the Save To field, and type a few letters of the desired project or contact. Pagico will help you with an auto-complete.
Here are a few additional keyboard short cuts:
Cmd + Shift + T (or Ctrl + Shift + T on Windows) for new notes
Cmd + N (or Ctrl + N on Windows) for new projects
Cmd + Shift + N (or Ctrl + Shift + N on Windows) for new contacts
By mastering these keyboard shortcuts, you can create new tasks & notes at lightning speed without touching the mouse (or the touchpad) at all.
Give it a try today!