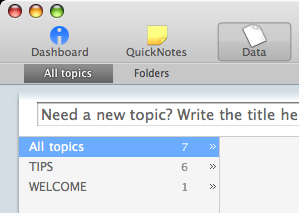 Well you might have already noticed that Pagico hasn't been updated as "frequently" as usual… That is because the new, Pagico v2.3 is about to be released and we're busy doing the final tests these days.
In this new release we have several major updates and new features.
One of them, is the new toolbar interface — yes, it's more polished even though Pagico has been one of the most polished apps.
It's using the unified looking of the upcoming Mac OS X: Leopard.
Click this image for more details.
Of course there are several other exciting new features in this new 2.3 release.
Stay tuned guys, and comments are welcomed.