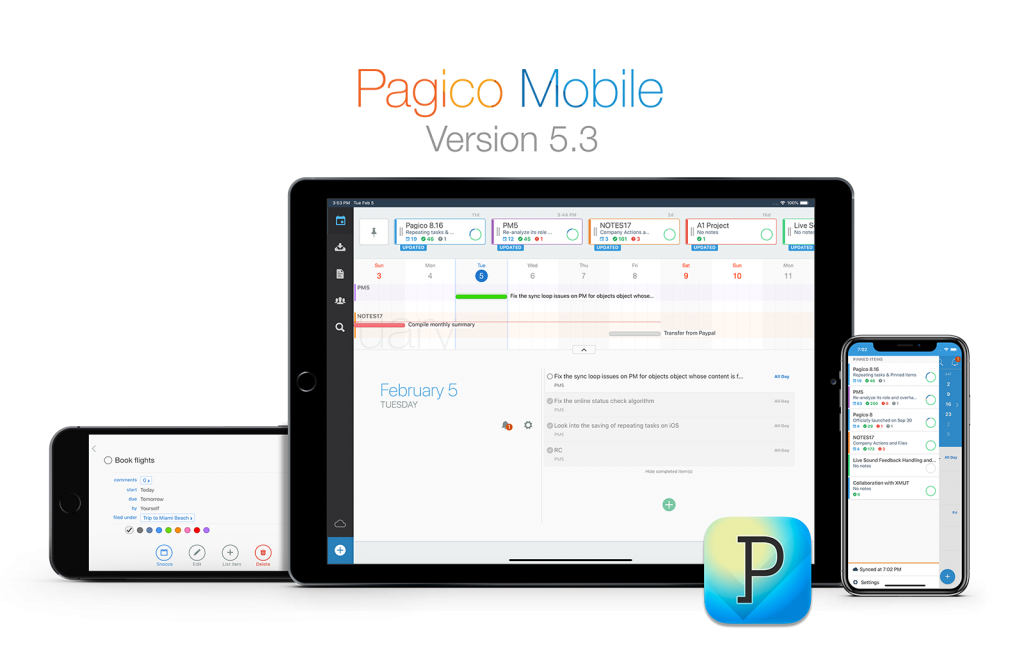 Greetings, everyone! Today we are excited to announce the immediate availability of Pagico Mobile 5.3 for iOS. While this appears to be a point update, v5.3 packs quite a few key improvements that most users would enjoy.
File-Related
The ability to import photos and files from your iCloud Drive
The ability to rename files
Offline access to files
Greatly enhanced previewing of media files
Pinned Items
Enjoy the Pinned Items feature in Pagico on your computer? Well, now you get to enjoy the same feature on the mobile side! The best part? Your pinned items are synced across your devices, so you can enjoy the speedy access to your favorite content wherever you go. The Pinned Items panel also features the much-loved instant task status charts, so you can stay informed on all your pinned items with a simple peek.
Sync-Related
Compatibility with the upcoming Workspace Sync Server in the E.U.
More reliable data sync with better handling of interruptions
More reliable and responsive internet connection status detection
Other Improvements
Numerous user experience improvements
Pagico Mobile 5.3 is now available on the iOS AppStore, so go ahead and enjoy! We'd like to say THANK YOU to everyone participated in our beta program; we simply cannot be here without your contribution, and we appreciate your passion, time and willing to help very much!
P.S.: Pagico Mobile 5.3 for Android is coming in a few days, too! Update: Pagico Mobile 5.3 for Android has been released on February 9.