Greetings, everyone! Today we're excited to introduce Pagico 8.15, the 15th point update of Pagico 8. It will be available in a few weeks. But while we work hard to get it ready, please allow me to share some of its new features with you.
New Features
The new Multi-column Layout
If your computer has a big display, you are going to LOVE this feature. Depending on the Pagico window size, you can see a two-up or even a three-up column to see more content at a glance.
To make things more convenient, another improvement that's small but will surely be appreciated is that the By Type display mode will natively supports manual sorting. In Pagico 8.15, you can move lists around without reverting to the Manual sorting mode.
The new Recent Items sidebar section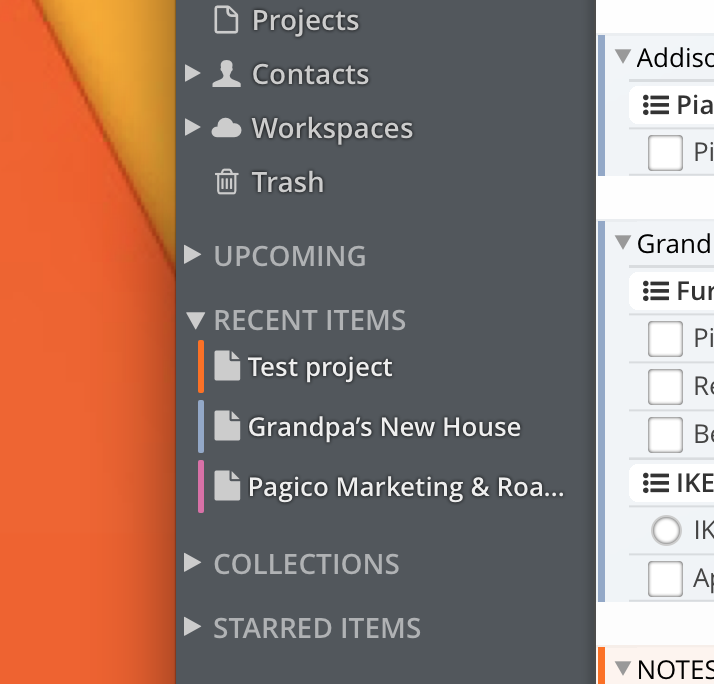 Going back to a previously used project (or contact) is easier than ever. We moved the Recent Items section that used to be located beneath the Dashboard Timeline to the sidebar area for improved visibility and operation efficiency.
Jump back to recently accessed containers with just a single click.
Improved Tag Picker
The tag picker has been improved to allow sorting by name or by usage count. When sorted by name, the tags are now organized neatly under their alphabetical group for easier access.
Improved support for templates
Many users need a template feature to create similar projects quickly. Pagico 8.15 includes a number of small feature improvements designed to make templates easier to manage and use.
First, project templates that contain dated information (e.g. tasks with start and due dates) used to be rendered in the Timeline. In Pagico 8.15, you can archive your templates to avoid them from showing up on the Timeline. But archived projects are hard to access. Here, we recommend you manage all your template projects in a static collection. In v8.15, Pagico will automatically reveal archived project templates in static collections, making those templates easier to access. Last but not least, when you clone a template project, Pagico v8.15 will automatically unarchive the cloned copy for you.
The New Safari App Extension for macOS Mojave
Pagico 8.15 for macOS will ship with a newly developed Safari App Extension. No manual installation is required — simply run Pagico 8.15 and you'll see the Pagico extension under the Safari -> Extensions section. While the browser extension is already available for Pagico 8.14, we had to rebuild this into a Safari App Extension as Mojave stopped supporting the legacy browser extension technology.
Improved the overlay screen animation efficiency
Screens that use the overlay design, such as the Today view and the database locking screen, will now show up much faster and smoother than before due to a more efficient design.
New Bulk Copy and Move contextual menu command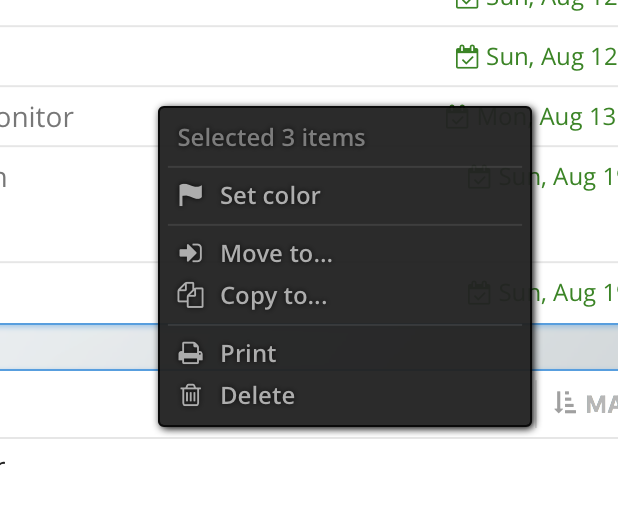 Want to move multiple items to a different project or contact? You can do so with just a few clicks now! Pagico 8.15 allows you to multi-select objects, then right-click and perform the copy or move action with ease.
Plus lots of stability improvements
Pagico 8.15 also brings a long list of minor changes that polish the rough edges and improve user experience throughout the program. A more comprehensive list of these changes will be provided in the release note.
Availability
Pagico 8.15 is being tested as we speak and will be ready within a few weeks.
Want to help us make Pagico better?
If you don't mind running beta software and are willing to share your thoughts on the upcoming Pagico 8.15, please consider enrolling the public beta program. We will appreciate your participation and your contribution will help us make Pagico as good as it can get.