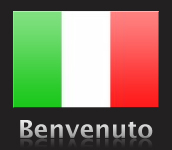 Hi folks, it's me again (obviously). This is gonna be a wonderful week as we're proudly to present Pagico, the most unique organizer software, to italian-speak people.
This will be an (free, as always) update which will be released soon, together with the Pagico On Linux official release. Special thanks to Claudio Mezzasalma who did the localization in an amazing, lightning speed.
So, as of now, Pagico is available in 7 languages and keep counting!

Again, let me say "thank you" to everyone who helped!
This month, Oct 2007 is really an amazing month for Pagico.
Oct 1st, Pagico reaches v2.3, which is a wonderful update with important new features.
Oct 8th, Pagico on Linux is privately released and started the final testing.
Oct 11th, the Italian localization for Pagico is nearly finished and being final tested.
…

So what's next? More exciting news are on the way!