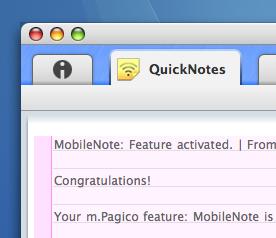 How are you doing these days? As we're working on the linux release of Pagico, the beta test of MobileNote feature has not stopped neither.
After a couple of weeks working, we've finally decided to completely re-written the incoming message handling program, which is believed to be the cause of not being able to receive mobile notes sent from certain email client or device.
It turns out that it only accepts plain text messages sent from Apple Mail program.
Geez. It loves mac than we do.
So, now the MobileNote server has been updated, so anyone who had problems with this feature before, please give it another try to see if it's working or not.
Thanks!
Update x1
It turns out that this new algorithm needs more tests… 😐 Well, the good news is that it's been fixed (again), and hopefully you guys can sync with our server and start using this feature!
Sorry for the inconvenience!