Hello guys, two weeks ago we just released Pagico 3.0, which is a major upgrade in the history of Pagico. However, we are not slowing down our development progress.
Now, the Pagico 3.1 is on the horizon, with two new killer features:
– MobileNote feature will be re-enabled;
– Link to Email messages in Apple Mail using drag and drop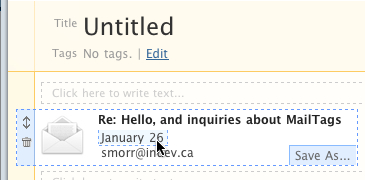 As the screenshot above, you can see the subject, sender and date time directly. Of course you'll be able to open the message by double clicking on the icon.
Don't forget about the "Data Detector" feature, which recognizes the sender's email address as well as the date time information, so you can set up a follow up task, or reply the message by just clicking on it.