Pagico 7.5 r1912 is a heavy-weight yet free update that brings a number of key improvements and bug fixes to OS X and Windows. Here are the highlights:
New: A WebCal Feed for Online Calendar Services

Pagico will now generate a web-based calendar feed that works with online calendar services such as Google Calendar, Outlook in Office 365, and more! Simply go to the Preferences section to activate this feature.
New: Data Object Filter for Containers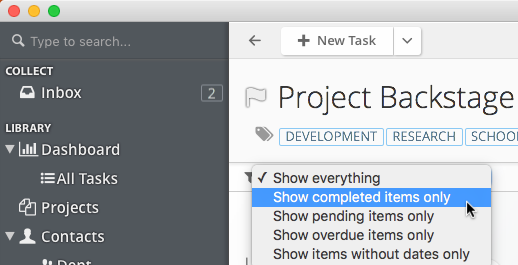 You can now filter your container's view with just a few clicks! This makes it easy to see the things you want to see and greatly reduce visual clutter. Please note that this feature is currently experimental, and please do let us know your comments.
New: Time Picker for Start & Due Dates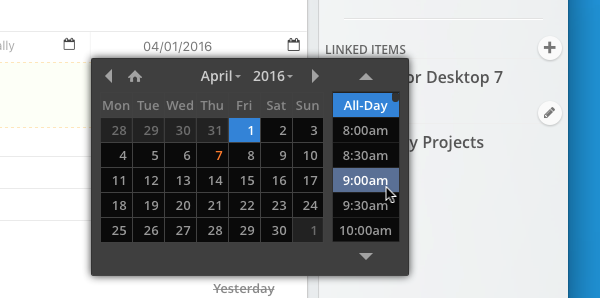 You've always been able to quickly type up any date and time in the Start & Due fields of tasks. But now we're making it easier for people who prefer using mouse or touchpad by introducing a revamped date picker with time selection capability.
And a lot more!
This version also brings a number of minor improvements and bug fixes:
A new color choice, and an improved color selection menu
Improved the stability of file and text importing via drag and drop on Windows
Fixed an issue where tasks starting from tomorrow might not get properly included in the Today view
Improved the sorting order of overdue tasks in the Today view
The project tag browser will now automatically grow based on the number of tags you have
Fixed an issue that changes made in a smart collection didn't update the view correctly
Other minor fixes
Updating
This is a recommended update for all v7 users. To update, simply visit the Download section and grab it. It's free for all v7 users. If you own an older version license, you can upgrade your license for a small fee from our store.
Thank you for choosing Pagico! We have lots of exciting improvements on our roadmap, and we can't wait to get those implemented and share with you guys! If you enjoy using Pagico, please help us spread the words! If you have questions or need help, please don't hesitate to contact us.