We've just released Pagico 7.7 (r1931 r1933). This is a FREE update to all v7 users, and it brings better file sync, improved public share, snooze options and more.
Update: It's 7.7 r1933 now, because apparently a week in Ryo's calendar has 8 days, which was reflected by one of the new snooze options. We've fixed this issue in this latest release.
Faster file-change detection and sync
Pagico on OS X and Ubuntu gained a new file change detection algorithm, allowing Pagico to notice changes you've made to documents much faster (and CPU-efficient) than before. Then, files that are smaller than 1Mb will be automatically committed and synced via the workspace feature, making your changes available to your other devices or teammates right away. Larger files will still wait for you to manually click on the "Commit" button to sync when you're ready.
Snooze Options
You can now easily reschedule on your tasks with a single click. Simply right-click on a task, and choose the desired snooze option.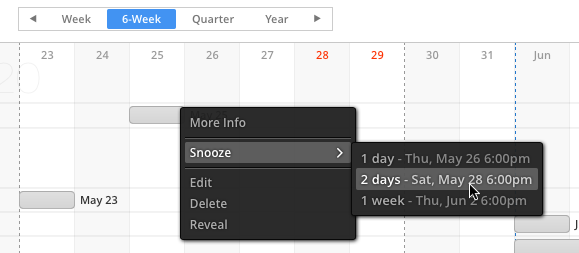 Better Public Share
As you know, you can share your projects or contacts with anyone using the Public Share feature. This feature is now improved so that the formatting of text notes will be preserved in the web version, as well as color selections for the container and data objects.
And more…
Tweaked Large Font mode the works better on high-resolution displays
Bug fixes
We have lots of exciting improvements on our roadmap, and we will share our future plans with you shortly. In the mean time, feel free to contact us if you have questions. We'll be happy to help.
Update now
Updating is easy as always — just head to the Download Section and grab it.