As the 15th point update for Pagico v8, Pagico 8.15 is here to further enhance your productivity with more efficient ways to present your data, faster access to your data, better support for templates, new bulk actions, and a lot more.
Multi-column Layout
If your computer has a big display, you are going to LOVE this feature. Depending on the Pagico window size, you can see a two-up or even a three-up column to see more content at a glance.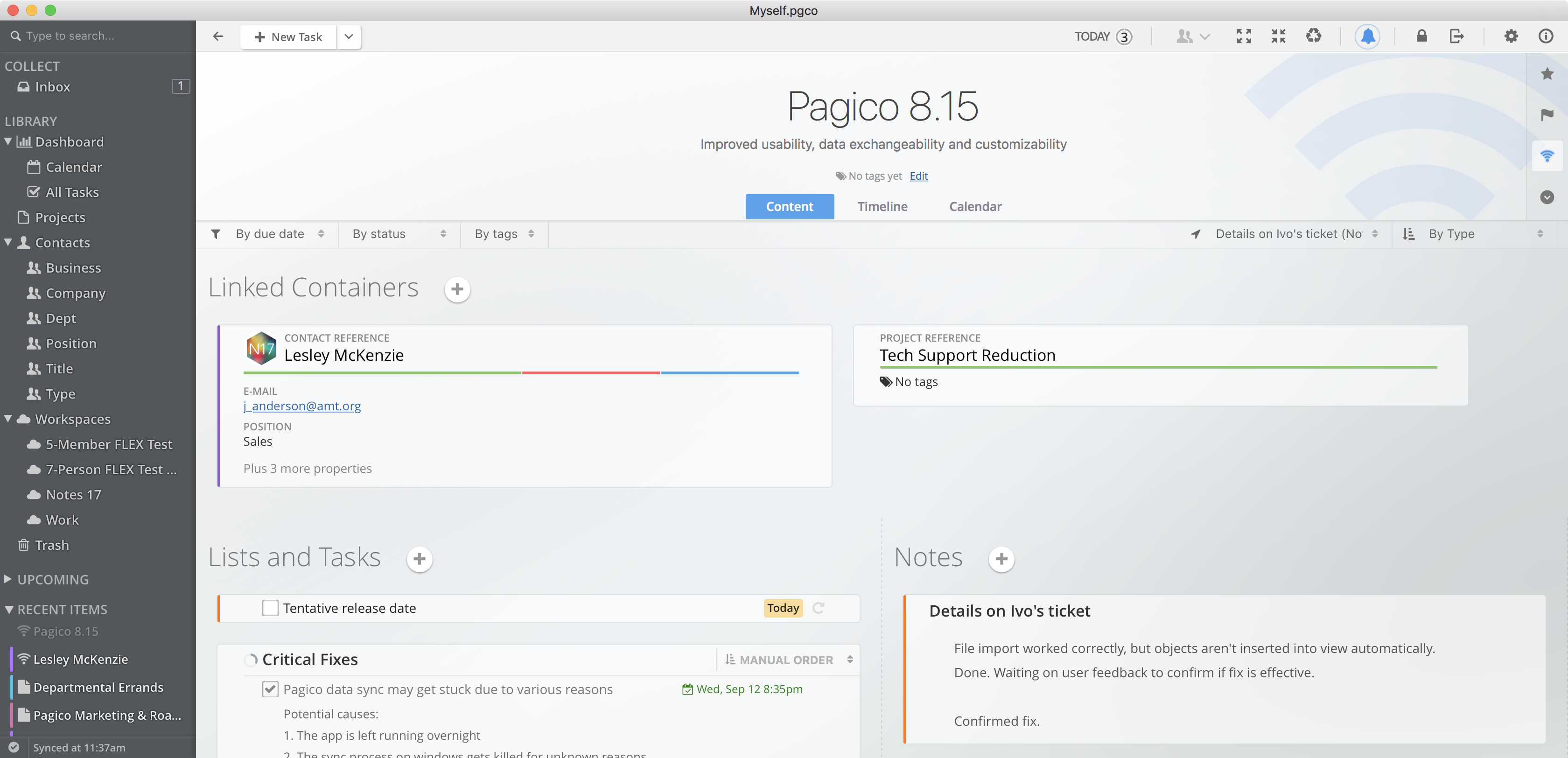 To make things more convenient, another improvement that's small but will surely be appreciated is that the By Type display mode will natively supports manual sorting. In Pagico 8.15, you can move lists around without reverting to the Manual sorting mode.
Recent Items Sidebar Group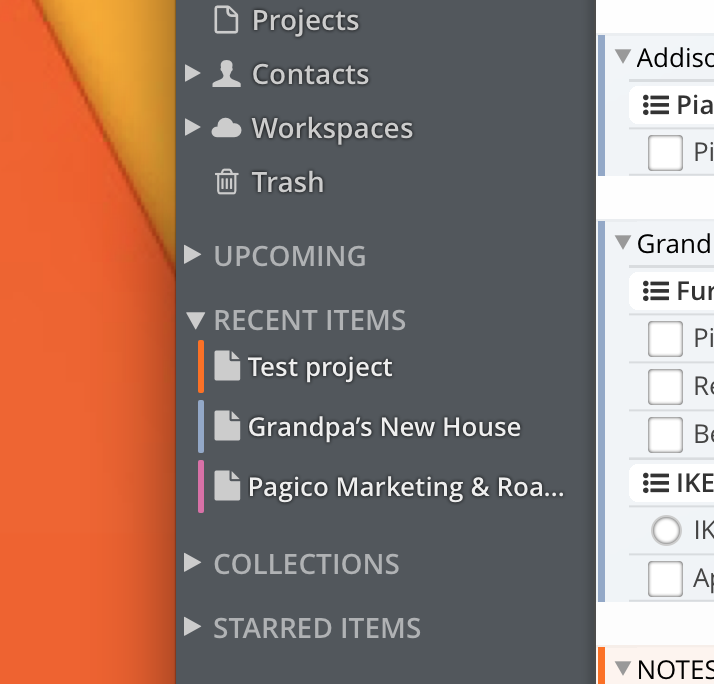 Going back to a previously used project (or contact) is easier than ever. We moved the Recent Items section that used to be located beneath the Dashboard Timeline to the sidebar area for improved visibility and operation efficiency.
Jump back to recently accessed containers with just a single click.
Better Support for Templates
Many users need a template feature to create similar projects quickly. Pagico 8.15 includes a number of small feature improvements designed to make templates easier to manage and use.
First, project templates that contain dated information (e.g. tasks with start and due dates) used to be included in the Timeline. In Pagico 8.15, you can simply archive your templates to avoid them from showing up on the Timeline. But archived projects are hard to access. Here, we recommend you manage all your template projects in a static collection. In v8.15, Pagico will automatically reveal archived project templates in static collections, making those templates easier to access. Last but not least, when you clone a template project, Pagico v8.15 will automatically unarchive the cloned copy for you.
Safari App Extension for macOS Mojave
Pagico 8.15 for macOS ships with a newly developed Safari App Extension. No manual installation is required — simply run Pagico 8.15 and you'll see the Pagico extension under the Safari -> Extensions section. The old browser extension is not compatible in macOS Mojave.
Smoother animations
Screens that use the overlay design, such as the Today view and the database locking screen, will now show up much faster and smoother than before due to a more efficient design.
Bulk Copy and Move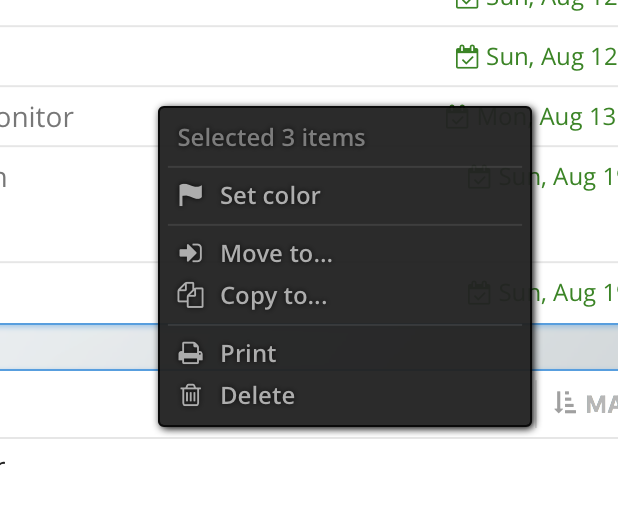 Want to move multiple items to a different project or contact? You can do so with just a few clicks now! Pagico 8.15 allows you to multi-select objects, then right-click and perform the copy or move action with ease.
More reliable sync
Pagico 8.15 also features a more robust data sync algorithm that works better when large amounts of data is involved.
Other Changes
New & Improvements
The Timeline feature now groups items by lists and shows list titles when necessary
Using the keyboard shortcut Ctrl+S in a rich text editor now manually triggers the auto-save
The linked container cards now uses less screen space and displays information more efficiently
Date of completion will now be displayed for completed tasks
The tag picker now sorts all tags alphabetically by default, and also allows sorting by usage count
You can now use the SHIFT key to multi-select objects in containers
Bug Fixes
Fixed an issue where the user names may be displayed incorrectly in data sync notifications
Fixed an issue where importing emails may require multiple attempts in certain cases
Fixed an issue where hitting the BACKSPACE key when an input method is active may cause Pagico to return to the Welcome screen
Fixed an issue where imported folders are rendered with an incorrect icon
Fixed an issue where Pagico may attempt data syncs too frequently when the computer is offline
Fixed an issue where content from deleted containers may continue to show up in the Dashboard Timeline and the Today view
Fixed the glitchy transitions of list sorting
Fixed an issue where line breaks in task descriptions may be doubled in certain cases
The New Task panel will automatically reposition itself when part of its content may be outside of the visible window area
Fixed an issue where a UI font size change may cause the resizable sidebar to be rendered incorrectly
Pressing Ctrl+P on Windows now correctly brings out the Print dialog
Fixed an issue where in certain cases Inbox items may not be rendered on the Dashboard Timeline
Fixed an issue with the auto-save algorithm, which now auto-saves text notes every 2 minutes
Availability
Pagico 8.15, free to all v8 users, is available now for Mac OS X 10.8 or later, macOS 10.12 or later (including 10.13 Mojave), Windows 7 or later, and 64-bit Ubuntu 14.04. To grab the update, please use the In-App update mechanism or manually download it from the Download Section.