In the past few months, we've been busy working on a few projects. One of them is this new Pagico for Desktop 6.6, which brings lots of improvements,to further improve the user experience of Pagico and make your working environment a little more pleasant. After months of development and weeks of testing, we are very excited to let you know that it's finally ready! Pagico for Desktop v6.6 will be available on April 23rd is already available, and it will be a FREE update to all v6 customers.
Highlight Improvements
In general, the v6.6 update is focused on user experience. The UI is much more polished, everything will look much better and pleasant to the eyes, and there are lots of improvements to make the overall program more user friendly. Here are a few significant improvements:
Dashboard Flowchart
Brand-New Week View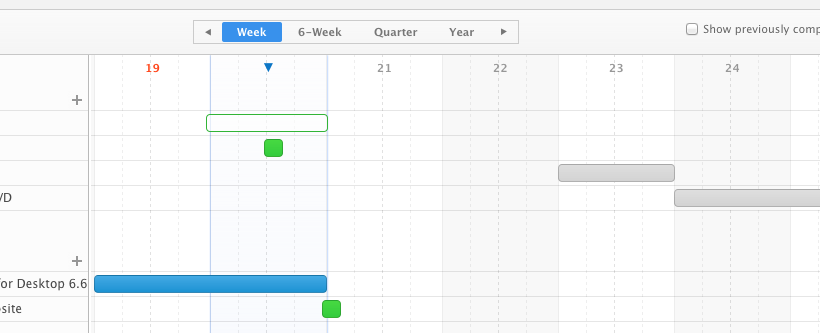 A brand-new, Week View is added to the Dashboard flowchart. This view is designed to give you a much detailed look over your current and the coming week. Tasks and appointments will be displayed with accurate positioning to reflect their timing settings. See that completed item in the screenshot above? It's off by a few pixels but that's not a render error. That's simply an appointment that was set to start at 11pm on the previous day.
Brand-New Integrated Stat View
In addition to the original interactive flowchart, we've added a Stat section to visually present your workload over the flowchart display range. The stats view is extremely easy to use. The numbers are generated on-the-fly, and you can easily adjust the display time range by changing the flowchart view mode or scrolling the chart canvas.

Scrollable Flowcharts!
You asked, we listened. We've improved the flowchart so that now you can smoothly scroll the chart canvas using your touchpad (or mouse wheel). In the Week view, you can easily scroll to see up to two weeks of schedule, and in the 6-week view (replacing the original Week view), you can see up to 6 weeks without using the navigation buttons. This should make your monthly planning much easier.
Smarter Flowcharts
Flowcharts are smarter. The selected view modes are now being remembered so that when you come back to Pagico, you'll see your favorite view mode right away. Flowcharts are also better looking, too. We've made lots of minor UI adjustments to make the flowcharts more pleasant and more user friendly.
Improved Daily Planning (Must-Do and Might-Do)
About a year ago, we developed a very simple yet efficient feature, the Must-Do and Might-Do lists, to meet your daily planning needs. Lots of our customers loved this feature, as it was simple to understand and very easy to use. A year later, we revisited this feature to make it even better and smarter.

This time, we're renaming the Must-Do to Today while keeping the Might-Do list. Underneath name change, we've also optimized the underlying algorithm. After a year's experiment, it turns out that things will get overdue and there's not much you can do about it. Simply sticking them on top of the Must-Do list won't help with the productivity at all. So, we've improved this area so that overdue tasks will now be listed under the Might-Do list as a suggestion, in case you run out of things to do today (like that's going to happen, right? :-)). This way, your Today list can stay clean and concentrate on things you really don't want to miss today.
Previously, the Must-Do (now Today) list shows you everything that's late or due today. But some tasks may take several days to complete and may require your attention every day between start and due. In this case, listing those tasks under the Might-Do list may get them easily overlooked. In 6.6, those multi-day tasks will also get displayed under the Today list, to keep them on your radar.
Rescheduling between the two lists is greatly improved as well. Single-day tasks, multi-day tasks and appointments will all be intelligently treated when you move them from one list to another. So just try it, and let us know how it works for you!
Improved Ways to Present Your Schedule
Some times when you are working in a project or a contact, you want to have a quick overview of your upcoming schedule without leaving your current view. In order to achieve this, we've improved the Upcoming sidebar section (can be enabled/disabled in Preferences) as well as the Notification panel (the bell icon in the toolbar).

These areas can quickly show your upcoming tasks without overwhelming you with late tasks any more. Even better, tasks with detailed hours will also get clearly presented, so you'll never overlook your upcoming meetings.
Smart Collections are Smarter
Smart collections are like smart playlists in iTunes. You select one or more keywords, and they will automatically search your entire database and populate with matching records. This is a great way for you to quickly see all your tasks based on given tags, such as @errands, or @office. In v6.6, you can use more than one keyword and specify whether to collect things matching ALL or ANY of the given keywords. This will allow you to fine tune your collections and see the things you want to.
Other Miscellaneous Improvements
The improved popup panels allows you to check off tasks right away without having to switch to their parents first.
Notes can also be edited in popup panels.
We're overhauling the software localization. As of now, the Chinese, French and German language packs are completely redone. More language options are being worked on and will be included in the very near future.
Lots of UI improvements.
List views (project lists & contact lists, etc) now remember their sorting modes.
More Energy Efficient — certain CPU-intensive tasks are optimized to consume less power. More energy-related optimizations are being made and tested.
Spell checker is now available for Pagico on Mac.
Stability improvements for Pagico on Windows — Pagico v6.6 is compatible with Windows XP all the way up to Windows 8.1. And no more crashing on Windows 7 systems!
And many other bug fixes.
Availability
As you can see, Pagico for Desktop 6.6 is a heavy-weight update and we simply cannot wait to get it out to your hands! It will be available for download on April 23rd is available now, and it will be a free update to all version 6 customers. Hope you'll love it as much as we do!
Last but not least, we'd like to thank all of you who helped us, including volunteer translators, beta testers, and all of you who provided feedback to us. We appreciate your help very much!