Greetings, and Happy New Year! We hope you and your loved ones all had a wonderful and restful break! To kick the new year off, we are proud to present the first feature update of the year, the January 2023 Update for Pagico!
Update 3 on Jan 26: A newer release is now available, featuring the following improvements:
Added a user preference option to choose whether the Today view should show all tasks or only tasks assigned to the current user
Improved the support for content pasted from Outlook on Windows
New: Tables can now be copied and pasted into notes in Pagico
Fixed an issue where contact auto groups could not be deleted in certain cases
Fixed an issue where filtering project and contact content by team users may not work as expected in certain cases
Fixed various UI glitches for an improved user experience
Fixed an issue where certain key strokes may trigger the ping sound effect on macOS
Fixed a few issues with date/time detection in the Natural Language Processing algorithm
Fixed various minor usability issues with Pagico Teams
Update 2 on Jan 11: A newer release is now available, featuring the following improvements:
You can now toggle the visibility of archived items in the new List View
You can now multi-select list items, right-click and archive / unarchive list items in bulk
Other minor improvements
Update on Jan 6: We just released another build that addresses two minor glitches (in regards to the new list view component) we discovered during the workshop today. Sorry for the rapid releases! But the newer build (r20230108) should work well for you.
New: Brand-New List View
Ever wanted to browse, filter and find your projects or contacts with ease? With the brand-new List View component, you can!
Here are a few things about this new List View component:
It's available everywhere: project lists, contact lists, smart collections, and team content list.
Loads data (even large amounts of it) very quickly
Offers per-column easy filtering
Supports column reordering via drag and drop
Offers easy and quick sorting on any column
Shows extra fields that you use in the metadata panels
Here's how this feature looks in action: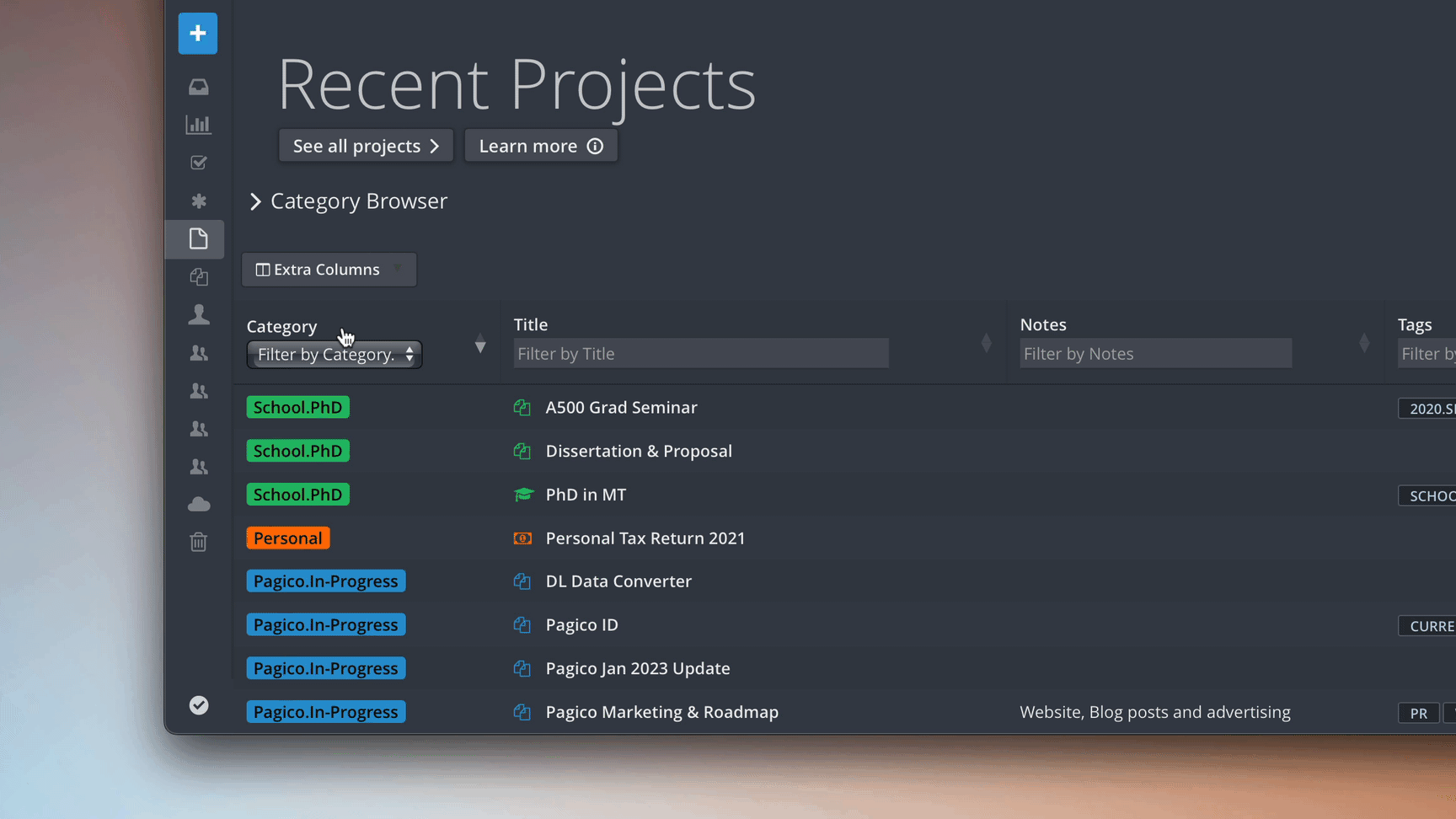 We hope you'll like this new feature as much as we do!
Other Improvements
Adjusted the text color choice for category labels for better readability
Fixed an issue where task phrases processed through the NLP algorithm may accidentally result in the task title saved in lower case
Improved usability with various UI adjustments
Improved data entry experience with the metadata fields
Getting the Update
Please head over to the Downloads Section to grab this newer version. Don't have an active software update service plan, or just own an older version of Pagico? No worries, you are invited to download and run the latest Pagico in trial mode to try for free.