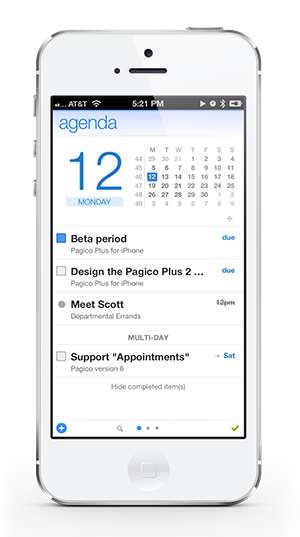 The wait is over! Today, we are excited to let you know the immediate availability of Pagico Plus 2 for iOS! After months of development, Pagico Plus 2 has an iPhone component that was designed from ground-up for the smaller form factor, and specifically optimized for the iPhone 5. It is an easy-to-use productivity tool with amazing features wrapped in a beautiful package.
Underneath the amazing interface is a robust foundation. Pagico Plus 2 on the iPhone took most of the proven components from the iPad app, and has gone through nearly 6 weeks of extensive beta test conducted by nearly a hundred amazing beta testers around the world. With this solid foundation, Pagico Plus 2 is fast and reliable.
Pagico Plus 2 for iOS is now also a universal app that will work on both the iPad and iPhone. In addition to carrying over the original iPad app, Pagico Plus 2 on iPad also received a number of bug fixes and user experience improvements.
As a way to say THANK YOU to our existing Pagico Plus for iPad users, this new Pagico Plus 2 for iOS is a FREE update. All you need to do is to update the existing app, and you'll automatically get the universal, v2.0 app.
For those of you who don't have this yet, please simply head over to Pagico Plus 2 on the AppStore.
Now, we'd like take this opportunity to thank our amazing beta testers, existing customers, and everyone else who helped us in the past. We just couldn't have been here without your kind support in all the different ways, and we really appreciate it! Please feel free to let us know about your comments and thoughts. As you know, we do take them very seriously. 😉
Cheers,
Ryo and Meng