Hello everyone, I'm excited to release this v2.3.1 update, which addresses so many things including both bug fixes and usability improvements!
Details about this release:

New features / Improvements
Added menu shortcuts for creating new topics and contact profiles (create new topic / profile by just a few clicks!)
Pagico window can be resized vertically (refer to the image below)
Added "Preferences" menu item (just the way other mac apps do)
Better support for accentuation for MobileNote feature (hooray!)
Optimized topic list and contact list (show more content with less space)
"Auto-Split" feature for MobileNote feature
Added tooltips for flowchart items (so you don't have to worry about the truncated items)
Added tooltips for for related topics with long titles in profiles
Bug fixes
Fixed issues regarding to MobileNote feature (if you can't receive MobileNote before, now you can!)
Fixed issues regarding to drop-down menus in the quicknotes section
Fix bugs regarding tags ending with comma in contact activities
Fixed UI bugs for QuickAccess items
A little more about the "Auto-Split" for MobileNote feature…
This is a very small but handy feature. Just write notes as you did before, and separate different ideas with several empty lines. All those ideas will be stored as individual notes in your Pagico.
Simply more flexibility.
Besides, for the Mac packages of this release we're using a new (standard) way of compressing the dmg file which will hopefully resolve the problem of 'unable to mount' or 'package was damaged' reported by a few of our users.
But, now Pagico window can be resized vertically… this isn't a big deal but it's really sweet. Look at the picture…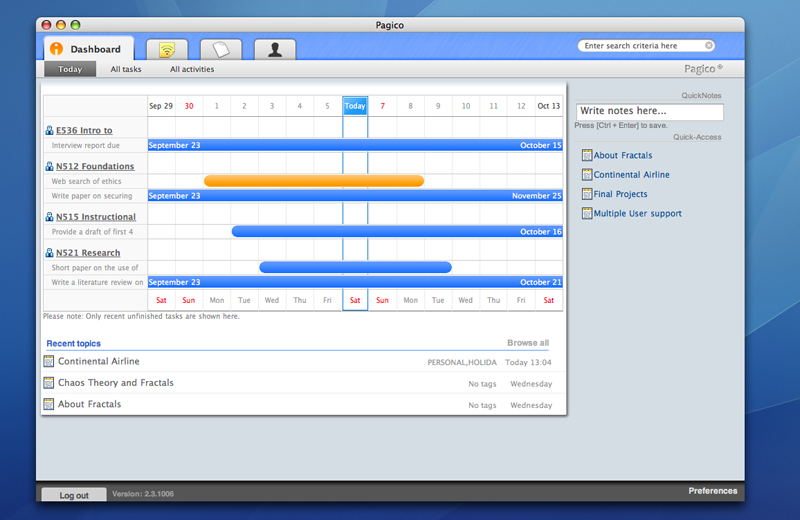 Enjoy! For those who haven't played with this release, feel free to download it!