Greetings! As you know, we continuously develop Pagico to include new features and bug fixes. For April of 2022, we have exciting new features to further boost your productivity:
Kanban-Style Project Browser
We created a Kanban-style project browser that allows you to easily see projects by categories, and set categories via drag-and-drop. This browser can be accessed by clicking on the "Projects" item from the sidebar. What's also new here, is that this view will now only show you the most recent 30 projects and their categories.
With this project browser, it makes it easy to oversee projects across workflow phases, such as "Active", "Completed", and perhaps "Behind". Then, you can see your projects listed under the respective "bins", and move them across bins by simply drag and drop.
To maximize flexibility, the kanban-style project browser is not only available for you to browse all your projects, but also in collections and teams! This makes it easier for you to group multiple projects together into "mega" projects and use the kanban browser to manage projects in that scope.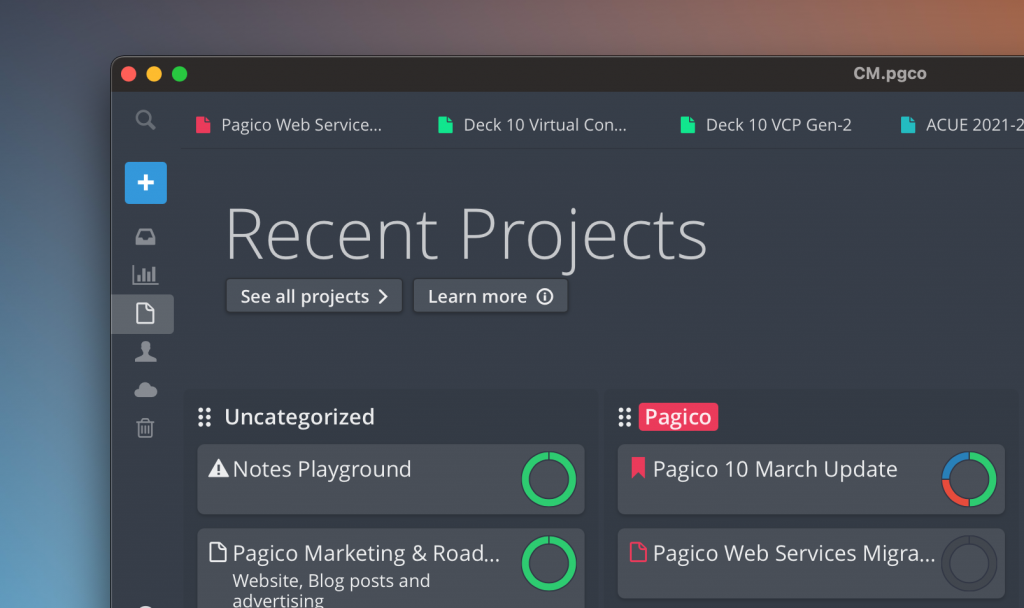 Custom Project Icons
Previously, all projects are treated the same — they all have the same "document" icon. With this newer version, you get to select new icons for your projects!
Simply go to a project, then click on the "Icon" button to make your selection.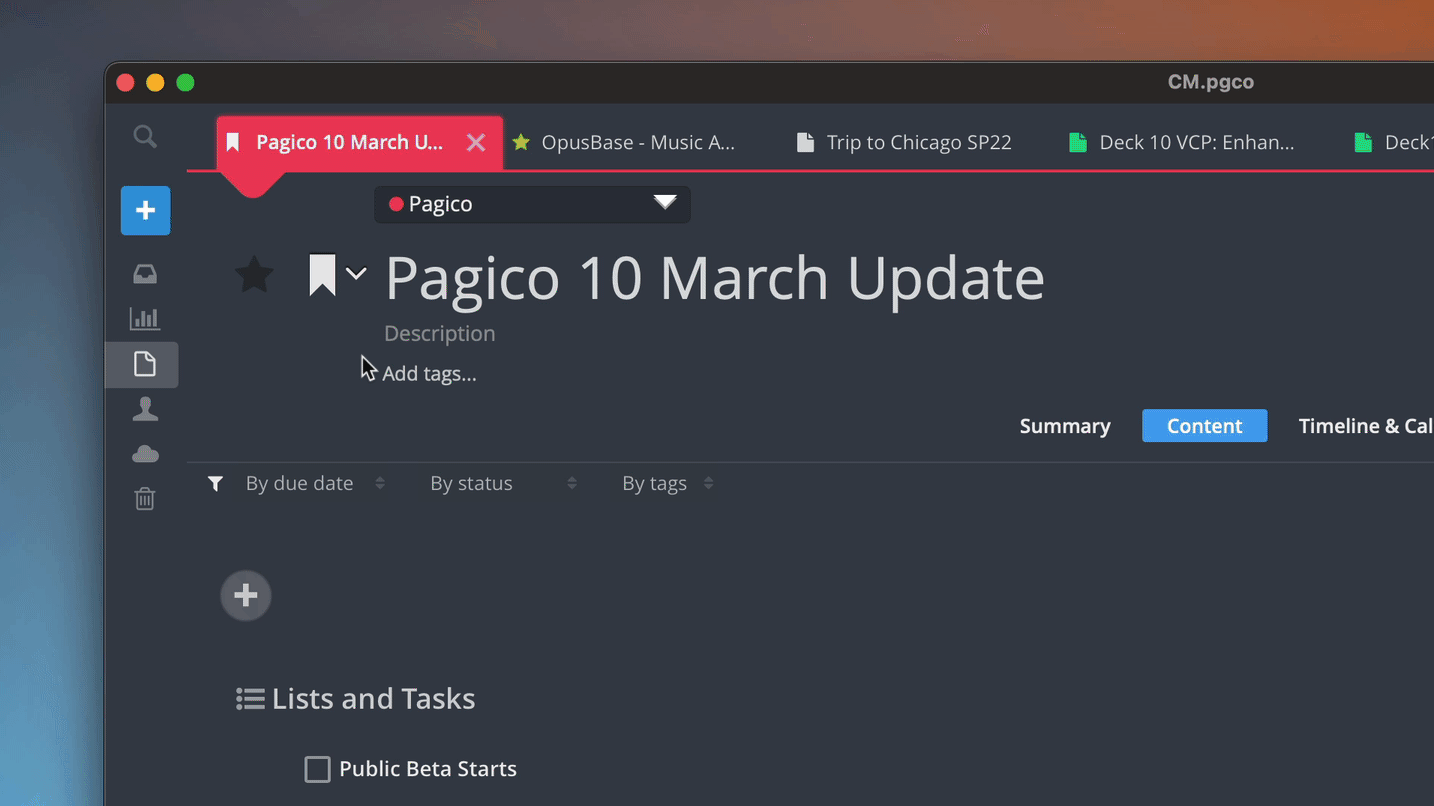 Under-the-hood Improvements
New in r20220416: Fixed an issue where the category assignment for list items may not save as expected in certain cases
New in r20220416: Fixed an issue where inline links may be rendered repeatedly on certain systems
Fixed an issue where the content list view in Teams may repeatedly refresh
Fixed an issue where the Teams -> Activity Feed may render changes incorrectly
Fixed an issue where renaming projects may not trigger the correct cache update process
Fixed an issue here project category assignments could not be cleared in certain cases
Fixed an issue where the collections sidebar list may not refresh as expected when new collections are added
Fixed an issue where moving a list some times may trigger the "unable to convert to plaintext" error
Fixed an issue where multiple inline links in the same data object may cause rendering issues
Fixed an issue where an at-capacity team may prevent data sync even if the sync capacity has been increased
Fixed an issue where the date labels for task groups on timeline views may be rendered incorrectly
Other minor UI issues
Getting the Update
To get the update, simply visit our Download Section.
Special Thanks
We want to give a special shout-out for our beta testers. This April update spent a month in beta mode, tested by hundreds of volunteers during March. Many testers provided critical feedback to help us make Pagico as good as it can be. Further, we'd like to give special thanks to super contributors below, who worked with us closely throughout the beta program to iron out kinks in our software (names ordered by last names):
Rene Andritsch
Guillaume Barrette
Hakan Bayindir
Steven Brown
John Cesta
Paul Freathy
Steven Helwig
Scott Sturgis
Jonathan Mead
Phil Wild