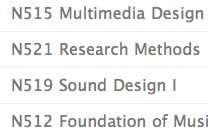 As I am currently teaching and studying in Indiana University, I have to say american college life is very challenging: everyone needs to deal with several courses in any single semester, and all the courses have various types of assignments: paper, interview, report, etc. Everyone needs to spent lots of time keeping track of them as all these assignments come with different due dates.
Therefore, I've got something to share with you on keeping tracking multiple courses with ease.

Well, take me for example. I've got 8 courses to deal with (many undergraduate student often needs to take even more courses). Some of them is courses I take and others are courses I teach.
In order to keep track of all these courses, I created entries for them using the "Relationship" feature: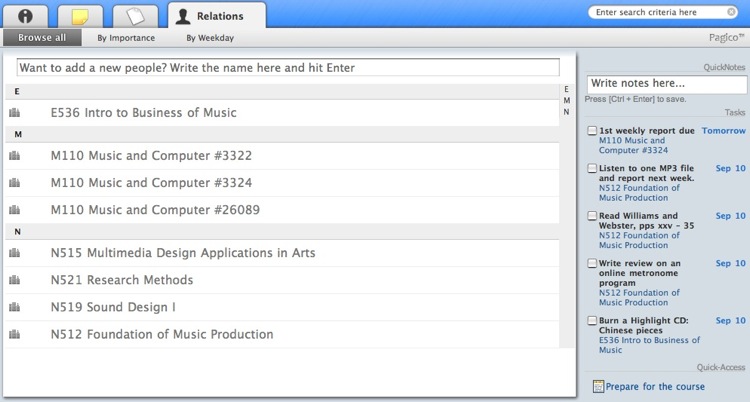 From the image above, you can see that I've created entries for all the courses using their course number and title.
All right. Now I can keep track of all assignments under each course by adding tasks in them:

From the image, you can see that the text "David Krathwohl" is appeared to be a link. Clicking on it will lead me to my preparation about David and his bio (stored in Pagico, too).
This feature is called Auto-Link, which will create a link whenever you mentioned a topic title or contact name. It's pretty handy because usually we need to prepare our courses and assignments in another topic.
Don't worry, your tasks are not "buried" under these entries. Pagico provides you a quick glance on what's happing or about to happen in the right sidebar. Therefore you'll be able to see all the upcoming events within the next few days, and the overdue tasks.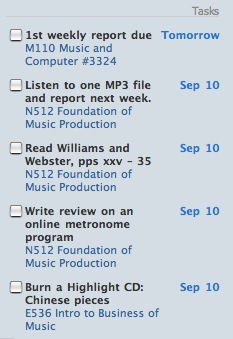 This sidebar will become very handy — it provides exact features you would need: click the checkbox when you're done, or click on the name to jump to the entry.
And yeah. Don't forget we've got a "meta-data" area for each entry. Make good use of it will bring wonderful results.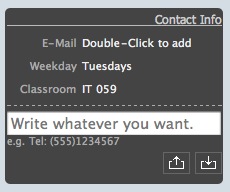 As you can see, I've added two properties for this class (as well as many other classes). Guess what? You'll be able to browse all your courses in different ways!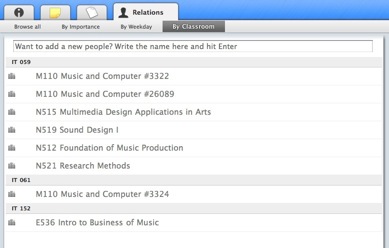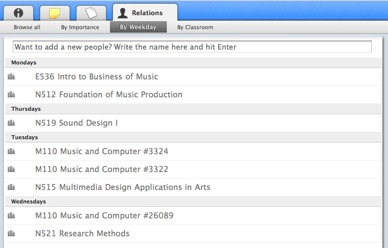 Just in case you don't know: this is a feature called "Auto-Grouping", which can automatically generate new tabs under the "Relationship" feature, based on your meta data used in different entries.

This feature, like many other features in Pagico, does not have a single option that you need to tweak.
So, just try it, you'll love it. Absolutely hassle-free.