Greetings, everyone! Today we are excited to announce the availability of Pagico 9.8 (rev 20210206). This version brings inline thumbnails, team-wide category and bug fixes.
Inline Thumbnails
Linked documents will now show up with their thumbnails (if they are available). This way you'll get a glimpse of the linked items without opening them up.

Team-Wide Categories
Team users rejoice! Categories are now synced across teams. Create custom categories (and color choices!) for your teams and take advantage of the color-coding capability with your teammates. When working in a project or a team, Pagico recognizes the context and presents you the appropriate category set so you select the desired categories with ease. You can create new team-specific categories in your Team -> Settings tab.

Pagico Referral Program
Do you like Pagico and know someone who may also like it? Refer Pagico to your friends and earn Personal Premium services! Each friend you refer will enjoy an instant discount, while you get an extra month of Personal Premium service! Look for your unique Referral Link in the Preferences section, or in your Pagico ID web portal.
From Earlier: Tags and Categories View
Also new in Pagico 9.8 (but announced a bit earlier) is the Tags and Categories view that lets you browse and filter your content with ease.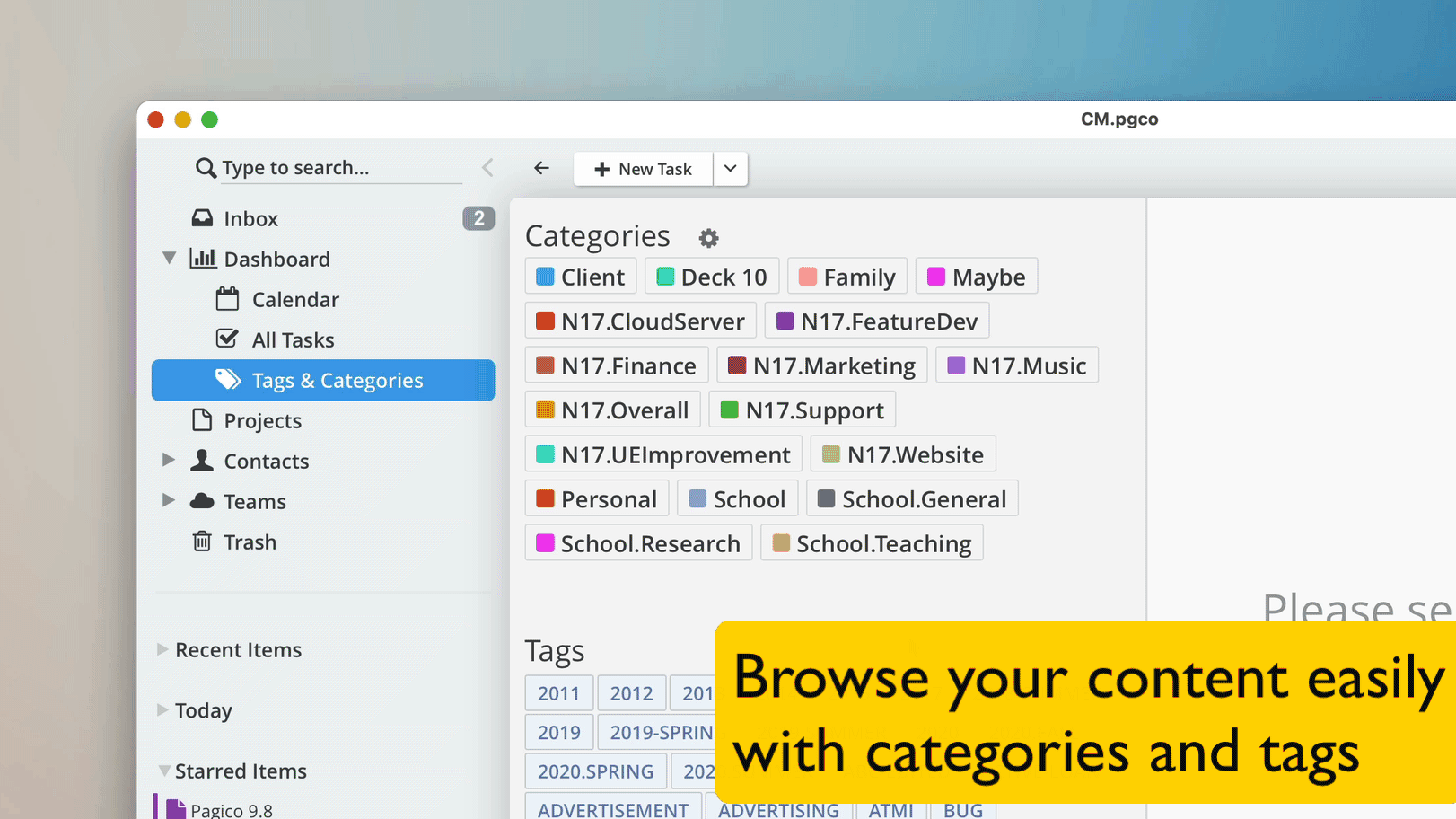 Bug Fixes
Update: r20210208 build addresses an issue where new tasks couldn't be created correctly when no categories are present
Fixed an issue where adjusting items from the timeline may not trigger data sync immediately
Fixed an issue a rendering glitch with the category selection in certain scenarios
Improved the reliability and accuracy of the tag scanning algorithm
Other under-the-hood improvements
And: An Apology
Pagico 9.8 release has seen a rocky start, in that we identified a few issues shortly after the initial release of v9.8. Because of that, we tried to address these issues as quickly as possible, and that resulted in a rapid-fire of releases over the span of 3 days. If you've been bombarded by the automatic prompt of "update available", or have been having problems with the auto-updater, we sincerely apologize! Moving forward, we will work hard to iron out issues prior to releases as much as we can, and we'll limit our release frequency to no more than one per week.
Getting the Update
Please visit the Download Section to get the update.