Greetings everyone! Today we are excited to announce the availability of Pagico 9.8, which brings a number of small bug fixes, feature improvements, and a new Tags and Categories view that is designed to let you browse your data with ease.
A New Way to Browse Your Content
In the new Pagico 9.8, you can easily see all your categories and your tags in one view. Better yet, you can browse your content right here by clicking on them. You can not only filter content by a category or a tag, you can even further narrow down your scope with one or more tags!
For example, you can first select a category (say your company), then continue to select "follow-up" and "email" to get a list of all the email follow tasks for your business. The results include not only projects and contacts, but also individual data objects such as tasks, notes, and files!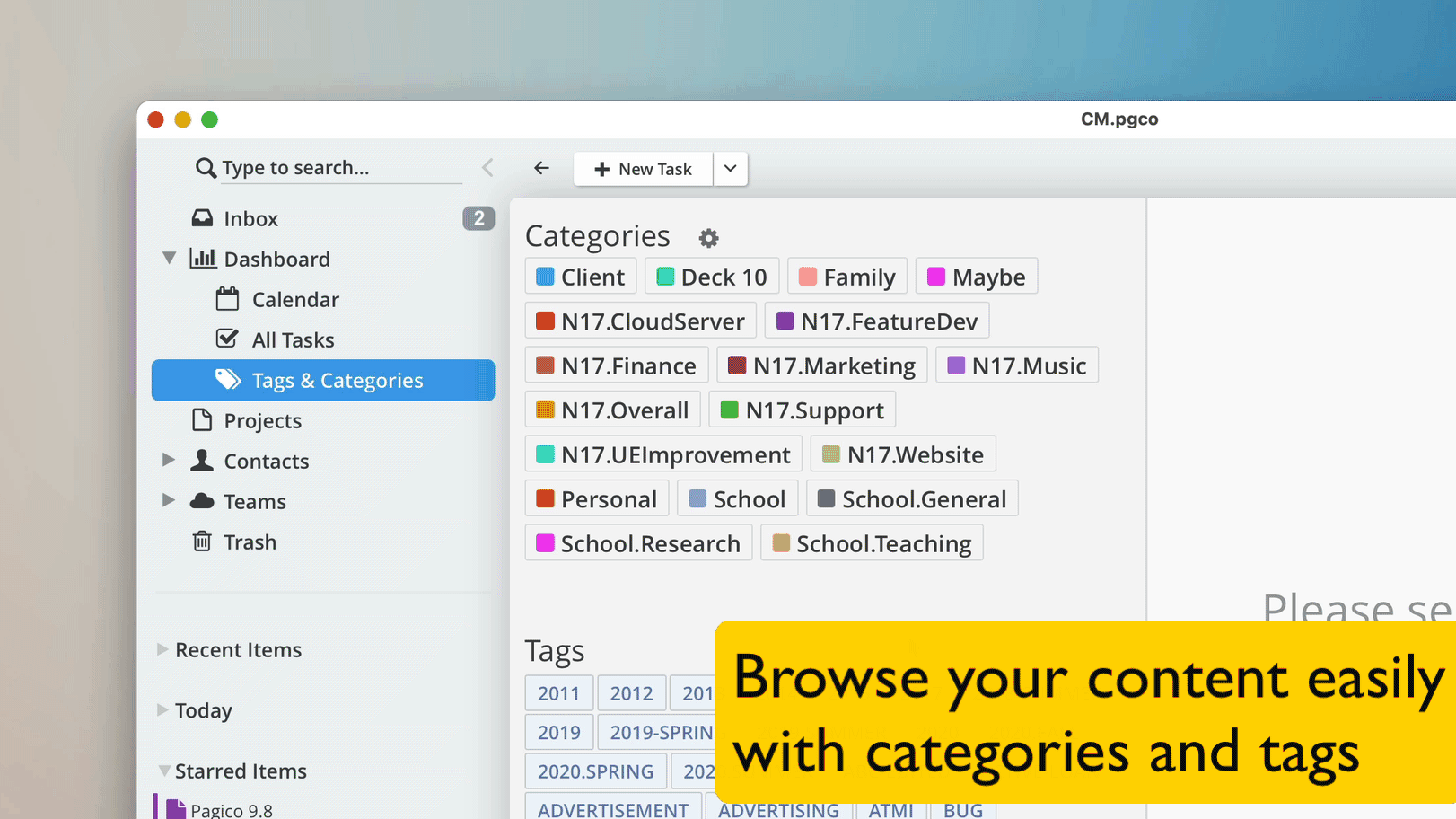 Other Improvements
Fixed an issue where certain special characters in contact information fields may cause rendering issues in the contact list view
Fixed an issue where the font choice of the date picker was inconsistent
Fixed an issue where searching for items in Inbox only may not work as expected
Fixed an issue where tags couldn't be renamed on Mac
Fixed an issue where the tags list may include tags used in archived or deleted items
Fixed an issue where file descriptions weren't included in smart search results and smart lists
Fixed an issue where comments weren't included in smart search results and smart lists
Fixed an issue where the Dashboard Timeline doesn't automatically move to the new day when Pagico was left running overnight
Fixed an issue where the Myself contact isn't automatically created for team users in certain cases
Other under-the-hood improvements and bug fixes
Getting the Update
Please visit our Downloads Section to get this update.