After months of intense design and development, we are finally getting close to the official release of Pagico 10! Due to the vast amount of changes involved in Pagico 10, a public beta program is needed to ensure that the software performs as expected out in the real world.
The Pagico 10 Beta
Today we are excited to announce that the Pagico 10 Beta program will start on Monday, August 23 2021. If you are interested in testing early build software and are willing to provide feedback to us, please sign up for the beta program below.
Update on August 23: The beta program has started. If you have enrolled into the beta program, please check your inbox. New beta builds will be released on a weekly basis.
What's New in Pagico 10

Pagico 10 is designed to further enhance the ways it helps people to get work done, by simplifying, redesigning and optimizing the overall package. Version 10 packs a large number of new features and improved capabilities, and here are some of its highlights:
Greatly Improved Performance
If you have large amounts of data in Pagico 9, then you may notice that some times it takes a little time for everything to be loaded. This includes the project / contact listings, as well as large projects and/or contacts. Pagico 10 addresses this issue effectively with a complete rebuild of the rendering engine. In version 10, everything loads almost instantaneously. This extra "snappiness" makes the entire system more fluid and comfortable to use than ever.
Tabbed Views

A brand new tabs design lets you see all your recently accessed containers as well as their color-codings with a glance and grants you instant access with a single click. Want to re-arrange your tabs? Just drag-and-drop to reorder. Best of all, the tabs and their arrangements are remembered between sessions, so you can launch Pagico and get back to where you were right away.
Better List Writing Experience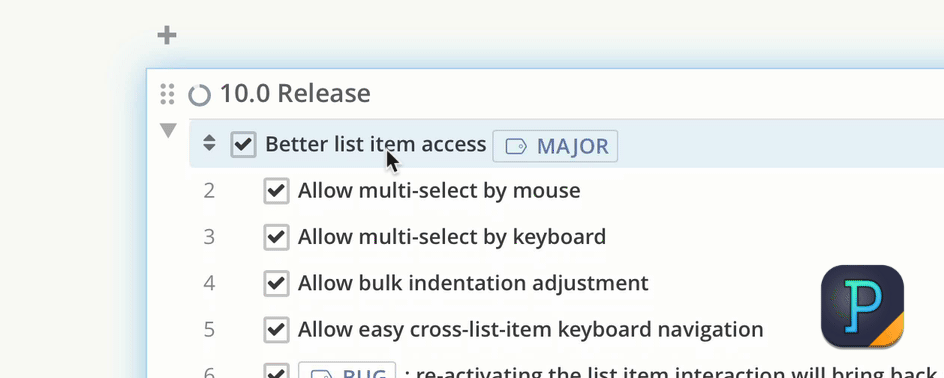 Multi-select, bulk indent/outdent/delete/check/uncheck, keyboard navigation, and a lot more! List items are so much easier to interact with if you are a keyboard-oriented user. They edit like text lists, where you can just use your arrow keys to traverse from one item to the next. The editing and saving are much faster as well, thanks to the overall performance optimization.
Container Templates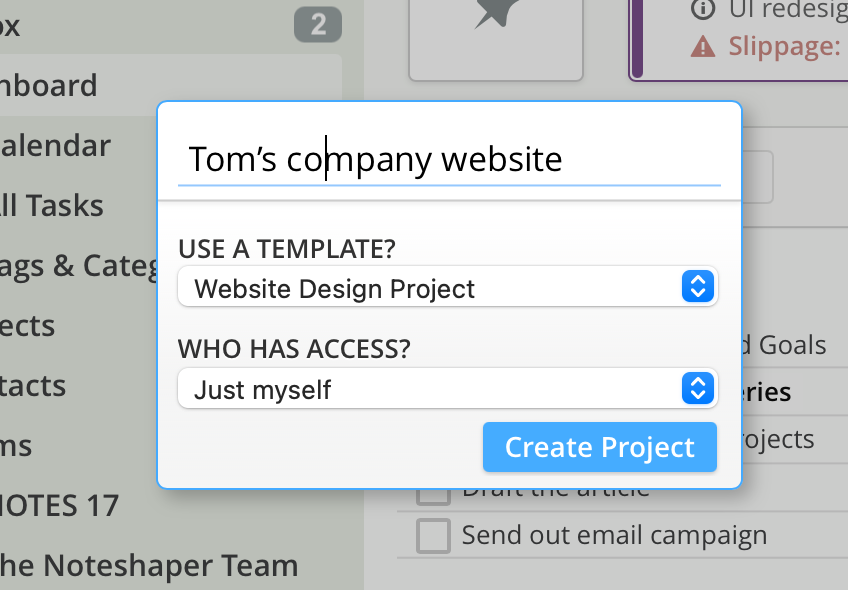 If you need to manage repeating projects that share similar structures, then you're definitely going to love the brand-new Templates feature. You can easily create and customize container templates and clone new ones with ease.
Templates are really flexible, too. They can be private (your personal access only), or can be shared with teams so everyone can spawn new templated projects with ease. When Pagico 10 launches, we will also offer a collection of pre-built common templates to give users a jump start.
Redesigned User Interface
The UI also receives a refresh in version 10! We are continuing our minimalist approach with the UI design, to give everyone a modern, elegant and customizable working environment. Fun fact: by simplifying the UI, we also improved the rendering efficiency as well. So the updated UI also brings performance gains.
And much more!
We are only scratching the surface here. Pagico 10 packs a lot more improvements to make your work more smooth and efficient than ever. We'll share more details with you all in the coming weeks.
Pricing & Availability
If you are not interested in trying early software releases, that's no problem! Pagico version 10 is scheduled to officially release on Friday, October 1, 2021.
Pricing
For all users with an active Personal Premium service plan, the upgrade to v10 is FREE. If you do not have the Personal Premium service plan and own a Pagico license, you can purchase the Personal Premium service plan at $24/year USD (you can cancel any time). For new users, Pagico 10 retails at the same cost as before: $50 USD.
If you are upgrading from an older Pagico license, or purchasing a new Pagico license, you will also gain free software updates and upgraded Personal Cloud for 12 months. After the 1-year period, if you decide not to renew the Personal Premium service plan, you will get downgraded to the free-tier Personal Cloud and will no longer receive software updates. But your license does not expire, and your Pagico will continue to work as expected.
You can purchase a Pagico license, or the Personal Premium service plan at any time here: