Pagico 7 is coming on May 5 2015, and it's going to be an extremely exciting update. It will be the best product we have ever developed, and it is packed with new designs and improvements to help you be more productive than ever. With the redesigned user interface, Pagico 7 is quite pleasant to look at, too! Today, I'd like to share a few highlight features with you. Read on for more details!
Natural Language Processing
Pagico will now intelligently scan your task title as-you-type, for date information and fill out the start and due sections automatically. The benefit of this feature is way beyond just saving you a few keystrokes. With this feature, you can select any piece of text (such as a line from an email) and save it as a task into Pagico with just 1 click. Check out the video below to see this feature in action:
---
Color-Coding Projects and Contacts
You asked, we listened. In Pagico 7, you can also color-code projects and contacts with just a few clicks. The color selection of the container will be shown in the title area, as well as the icon of the list views.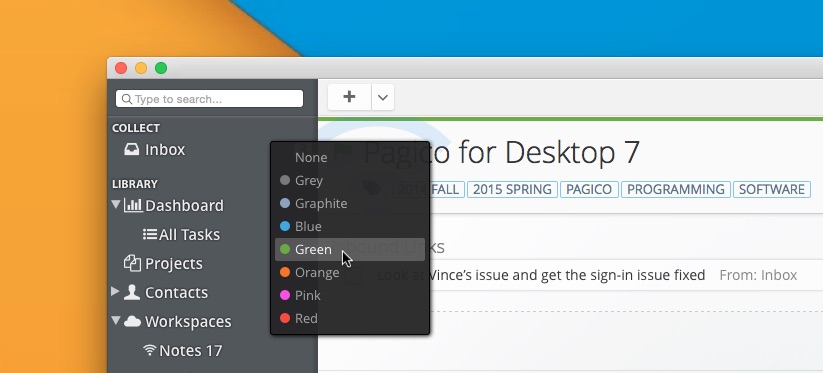 ---
Brand-new Content Layout
Have lots of stuff in your projects can make it difficult to quickly locate certain items. But that's about to change! Everything can now be organized by their type. Lists and tasks will always be arranged together, then followed by notes and files. This new layout option can give you a quick overview of all the items you have and lets you to quickly jump to any section with a single click.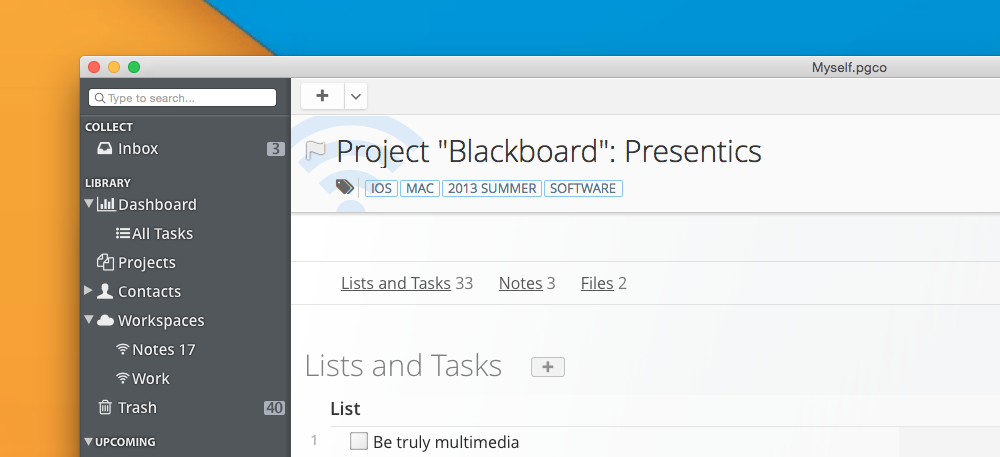 ---
Brand-new Metadata Panel
The cross-link capability is one of the most loved feature by our users, and it's definitely one of Pagico's strengths. In Pagico 7, we completely redesigned the way linked items are shown. The new metadata panel makes better use of the space available and brings up the linked items. This makes it easy to quickly see all the linked projects and contacts.

---
Inbound Links
We've also redesigned the way inbound tasks are displayed. Previously located in the footnote area, the incoming tasks and notes are now promoted to the top of projects and contacts, making them much more visible. In addition to the layout change, Pagico 7 will also include those inbound links in the container-specific flowchart, so that you can see everything assigned to the current project or contact in one place.

---
Pagico 7 is launching on May 5, 2015. Packed with tons of improvements and new designs, it is the most exciting product we've ever developed. In the coming days, we'll share more details with you, including exciting features such as tag support for files, the hugely improved search, Zapier integration, and lots of others.
Stay tuned!